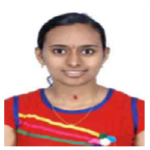 Sneha P
Electronics and Communication Engg.
The campus drives us with maximum support. It helps us to take off from the horizon in 00 to 3600 in academic perspective and also in co-curricular activities.
The platform to showcase the students' talents was provided on 27th Feb 2016 which not only was celebrated as ethnic day but also brought the individuals a spark of courage to build up our leadership as well as co-ordination skills. The SSA (Self Study assessments) not only assesses the projects but also encourages each one of us to think different, make things differently and to take things in a different way. The cycle counselors are down to earth – they make students explore the inner person of them and also make them realize who they actually are. The digital library is a place where we learn new things and the discussion rooms are well maintained where students discuss about projects as well as it is a comfortable place to do group studies.
We have been allotted with specific mentors who keep track about the particular student's academic as well as their sports. And these sports facilities provided brings in the maximum support for the student in particular and also train them to be a better sports person in future.