A Report on Industrial visit to Agaram sewage treatment plant, HSR Layout, Bengaluru, Karnataka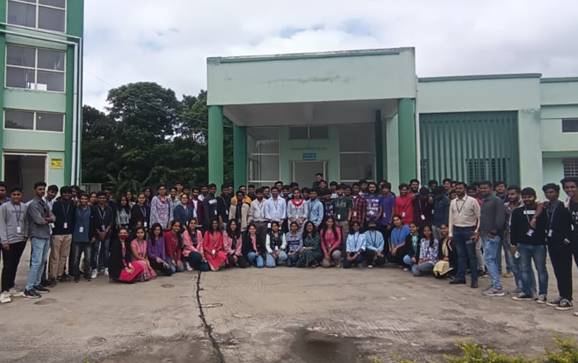 Department of Applied Sciences – chemistry organized one-day Industrial visit to Sewage Treatment Plant at Agaram as a part of our curriculum on 27th July 2023. The capacity of the Treatment plant is 35 MLD (Million Litres per Day). Nearly 100 students visited the sewage treatment plant along with three faculty members.
Mr. Naresh, In-charge of Agara Sewage Treatment Plant, explained about the complete structure of sewage treatment plant starting from inlet point for entry of   sewage to outlet point for disposal of treated water to Agaram Lake.
Sewage water is treated in following three methods
Primary treatment of sewage is done through Screening with the help coarse and medium screen bars to remove floating materials which will cause problems for further Grit chamber along with bottom scrapper are used to remove the sand, concrete, stone etc. which will be settled at the bottom.
Secondary treatment of sewage involves the remove organic suspended material through aerobic decomposition. In this method air diffusers are installed at the bottom of the tank to provide oxygen for aerobic decomposition under the influence of After the process sludge is reused for next batch water.
In tertiary treatment method fibre disc filters are used to remove micro particles. Disinfection process is done with the chlorine gas to remove the microorganisms/pathogenic bacteria. The sewage is tested for its BOD, COD, pH before the disposal of treated water to Agara lake.