Guest talk On" Semiconductor Physics – Insights"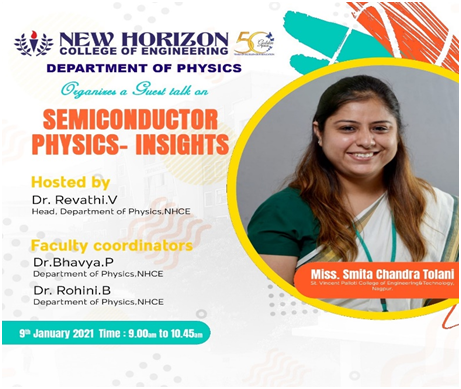 Date From: 09-1-2021 To: 09-1-2021
Time From: 10.00 AM To: 12:00 PM
On January 09th 2021, The Department of Physics (BSH) organised a guest talk on "Semiconductor Physics- Insights". The guest talk was intended for 1st year engineering students to bring knowledge about semiconductor Physics in various aspects. We were happy to see 480 students attending this session.
The guest talk started with the welcome note followed by speech of our chief guest and key note speaker – SmitaTolani. During the guest talk, she explained about basics of Semiconductor and various types of solids. She also covered the types of semiconductor and their related devices along with practical examples. Students were interestingly observed on the speech until end of the session.
The session was useful for the present first year to learn more about the semiconducting devices. Students are enriched with the knowledge of semiconductor.