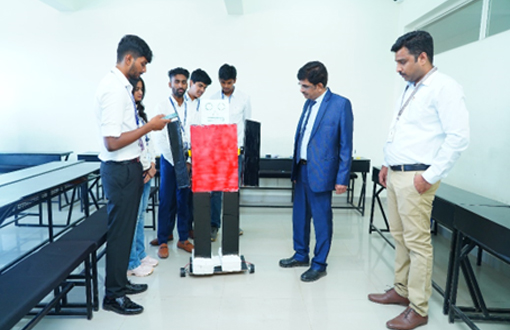 Venue: Chhatrapati Shivaji Block
Date: 28th February,2023
Time: 1:00PM-5:00P004D
Faculty Co-Ordinator's:
Ms. Rashi Kubnani
Ms. Poornima.GS
Dr.K. Dhanalakshmi
Ms. Tarunika Sharma
Student Coordinators:
Akshaj. Gupta– 22IS008 – 1st Sem – Section O (Board Member)
Total Number of Internal Participants: 300
Total Number of External Participants :0
Event Poster weblink in NHCE Website:
Targeted Audience: Students from all B.E Courses in 1st year
Description of the Event:
Ever since 1987, our country has been celebrating the National Science Day on 28th February to commemorate the discovery of the 'Raman Effect' by one of the renowned Physicist of India- Sir CV Raman .The Math Horizon and Genesis Clubs organized a science exhibition on account of National Science Day. The students were asked to prepare and present working models and many innovative ideas were presented based on our day-to-day life applications which helps in improving their creative thinking. Students from various branches had participated enthusiastically in the event. The objectives of this program was the entire event provided platform to the students to prove their talents, bring out their creativity ,face challenges and overcome their weakness. Students participated with enthusiasm in oral presentation and science fair. The science day was successful and we believed that our objective was achieved.
The winners are:
1st Prize- Section O
2nd Prize- Section Q
3rd Prize -Section C